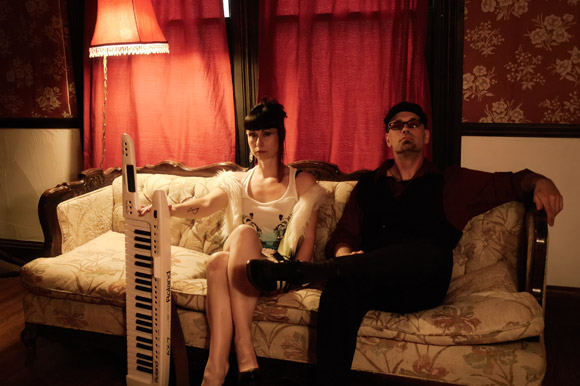 Hudson K is the sound of passion unleashed by the multi-talented duo, Christina Horn and Nate Barrett. Born from years of classical training and technical refinement, Horn's determined grit and adventurous spirit has driven the evolution of Hudson K over the past six years to create an experience that swings seamlessly between the branches of synth-heavy experimental meta-rock, pop-dance tunes, and powerful soul-searing ballads.

With their national debut, Ouroboros and the Black Dove, Hudson K has cemented the sound they have been building on stages across the eastern states.

"This album is about pushing the borders of our music and ourselves as artists and people," says Horn, "it's about honoring our growth as well as our roots to see how vulnerable we can become in our craft. This is album is about losing yourself and finding yourself. It's about recovery and reclamation." Ouroboros and the Black Dove is a visceral, cathartic, and, at times, upbeat album that makes a bold statement: This is Hudson K.

"We put is all on the line in this album," says Horn. "It really started with I got a message from Jason [Rubal] out of the blue. It said, Mark my words: Some day, I will make your album."

Under the guidance of internationally-renowned producer, Jason Rubal, and his team at Seventh Wave Studios, Horn and Barrett found the courage to dive deep in this brave, genre bending musical mosaic, Ouroboros and the Black Dove, available March 2013 on vinyl or CD through www.hudsonkmusic.com , iTunes, and Amazon.

When they aren't on the road, Hudson K calls their scruffy city, Knoxville (TN), home.