#SHOPFARRAGUT and WIN!
Win $375 in Gift Cards* from participating Farragut Businesses!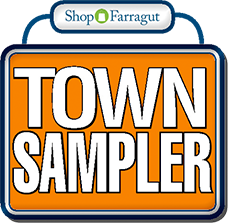 Shop Farragut wants you to WIN $375 in Gift Cards* to participating Farragut Retail Shops, Restaurants or Personal Service Businesses. Why would we do that? It's really simple. By giving away a gift card to one of the many retailers, restaurants or service location in Farragut, we are giving you the opportunity to get acquainted with a local business that you may never have visited.
Our goal is that you find some nice NEW places to shop, dine, or be pampered, and that you'll want to come back again and again.
DECEMBER is a $375 Value!
$25 Gift Card from JC Penney
2lb Specialty Roast Coffee and Holiday bells from Embroidery Boutique
$20 Brunch Bucks from First Watch Café
$25 Gift Certificate from BK Lash & Skin Boutique
$50 Gift Certificate to Seasons Innovative Café
$50 Gift Certificate fom WEST Bikes
10 Class Pack from Blue Ridge Yoga
$100 Gift Certificate from MD Weightloss & Wellness Center
Fancy Panz Travel Tray with free personalization from Linda's Hallmark
* Gift cards or certificates.
Winners will be notified via email the last Friday of each month.
Powered by

Official Rules
Sorry, Registrations have closed.
Keep listening to i105 WFIV for your next chance to win.